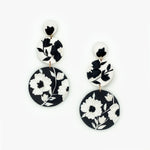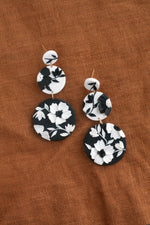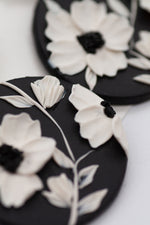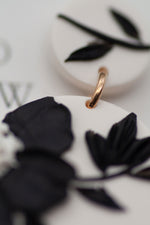 Island Meadow Clay
Tuxedo 3-Tier Floral Earrings
Regular Price

$42.00
Sale Price

$42.00

Regular Price
Unit Price

per
Details
Handmade floral polymer clay statement earrings.
These earrings are a masterpiece of delicate handmade flowers you will treasure for years to come. The tuxedo 3-tier floral earrings have black and white polymer clay flowers with 14K gold posts. They weigh 10 grams and measure 6 cm.

Made in Ottawa, Canada
Variations in floral design or imperfections may occur, which are part of the beauty and uniqueness of handmade earrings. Colours may vary slightly from the product images shown due to monitor settings/brightness.
FREE LOCAL DELIVERY (Minimum order of $20): Right now we are offering free delivery within Orangeville, Ontario, Canada! Just select this option at checkout and once your order is packed, we will email you a delivery date.

CANADA
Orders are charged the following flat rates depending on your shipping selection:

For all earrings and most hair accessories:
Standard Shipping $3
Tracked Parcel $9.99

Other Products:
Tracked Parcel $9.99

Standard Shipping is sent as Oversized Lettermail with no tracking.

You have the option to add tracking during the checkout process by selecting the shipping upgrade. You will receive a tracking number by email once the order has been shipped.

Fire & Colour is not responsible for lost or stolen packages.

USA
Orders are charged a flat rate of $8.99. Please note that these rates are in Canadian dollars. There are generally no duties or customs charged on any of the items sold in our shop. In the event that there are any duties or customs, customers are responsible.
We want your earrings and accessories to keep looking their best. Follow these care instructions to help preserve their beauty.

All Earrings: Avoid contact with water, makeup, sweat, oils/perfumes and hair products. Avoid dropping your earrings. Avoid sharp object that could scratch your earrings. Store in a cool, dry place. To remove dust or smudges, wipe with a glasses cleaning cloth or a microfiber cloth.

Polymer Clay Earrings: Avoid bending your polymer clay earrings. They are flexible, but can still break if bent or dropped. To clean, dip a Q-tip in rubbing alcohol and gently rub or use a jewelry cleaning cloth. If makeup gets on an earring, wipe with a makeup wipe.

Leather Earrings: If leather gets bent it can be flattened with a warm iron. Cover the earring with a cloth/towel first and avoid the hooks.

Porcelain/Ceramic Earrings: Gently wipe with a soft, damp cloth and promptly dry.

Earrings with Brass: Raw brass naturally oxidizes over time, creating a lovely vintage-like patina on your earrings. To restore brass to it's original colour, rub with a Q-tip dipped in lemon juice, being careful not to get any juice on other materials.

Earrings with Silver: Silver naturally oxidizes over time as well. Clean with a soft cleaning cloth treated with jewelry cleaner, being careful not to touch any other materials.